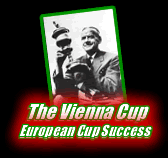 In 1914 Glentoran embarked on their first european tour. It was on 18th May 1914 that the Glentoran tour party set out by ferry to Stranraer on the first leg of their journey to conquer Europe. They travelled to Prague were they met the Deutsche team. Played in front of a large crowd in 82 degree heat the glens took a second minute lead but Deutsche aided by some Berlin players fought back and at half time it was 3-3. Despite Glentoran pressure however
Deutsche managed to grab a late winner.
Next it was on to play Hertha Berlin, the party was greeted by the Hertha Club's officials at the train station and although the temperature had risen to 90 degrees on arrival it had soon dropped to the seventies when the match kicked off at 6.30 that night. The Glens playing with the wind in the first half went ahead through Sam Napier in the third minute and at half time it was 2-0 at full time it was 4-1. A crowd of over 6,000 applauded the glens as they had witnessed what may said was the best display of
football seen in Berlin to date.
Following the Hertha match it was time to travel to Vienna to prepare for the Vienna Cup. The tournament was organised by the Vienna Football Club and the tourament was to last one week. During the week two fixtures were played against a Vienna select played in front of over 6,000. The Glens dominated the game but conceded a last minute equaliser to end the game 1-1. The destination of the trophy depended on a victory in the last match
and the glens won it easily and became the first Britsh team to win a European trophy!
On Sunday a three hour sailing on the Danube took the party to Pressburg where the Glens again impressed with Prince Albert of Austria commending the Glens style of play.

The tour ended with a game against an the full Hungarian international team and although they proved to strong for the Glens the tour had been a resounding success.