Undoubtedly East Belfast's greatest export,

the Titanic was built in 1911 at the Harland & Wolff Shipbuilders. She was owned by The White Star Line who were going to use her (and her sister ship called The Olympic) to service the Atlantic ferry route between Southampton and New York, USA.

From 1869 until 1919, it was said that there was never a single day that Harland & Wolff was not working on one of the White Star Line's ships. White Star was Harland and Wolff's best customer.

In 1911, the shipyard employed 14,000 men, of whom 4,000 worked on the Titanic and many of those came from the East. In the photograph below, The Titanic, under construction, is visible in the background.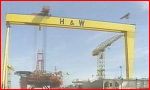 The future of the East Belfast shipyard is under close scrutiny at the moment. But now the legacy of the Titanic, which once hung like a shadow over the city, may become its saviour. Plans for a Titanic Park are in the pipeline with talk of thousands of jobs being created as part of the shipyard is transformed into a high-tech knowledge park.
On 2 April 1912 the 'unsinkable' floating palace Titanic left Belfast. The story of the Titanic is one which has been told many times on film, video, and television, and countless books have been written about her.