Big John had his own hero figures - Frank Sinatra and Arnold Palmer to name but two - but in East Belfast he was the hero, a living legend to thousands of Glenmen, who saw him take four trophies to the Oval in his first season, complete an all-conquering American tour, and remain undefeated in two European Cup games against the mighty Benefica.
John Colrain was raised in Bridgeton, a part of the East End of Glasgow where razors were not always used for shaving, nor axes for chopping wood. As a Catholic in a strong Orange area, Colrain soon learned to look after himself.
His obessive love affair with the game of football began when at 15 he signed provisional forms for Celtic. The 'big mans' first ambition was realized when on New Years day 1957, he found himself on the Colts team to meet arch rivals Rangers.
Colrain left Celtic after six good and formative years to spend nearly three seasons with Clyde and a smaller period south of the border with Ipswich Town, under Alf Ramsey and then Bill McGarry.
He joined Glentoran as player-manager in July 1966, inheriting Billy Neill's Irish Cup winning side of extremely talented individuals. Colrain saw his first task as welding them into a team: "This was the first and most vital lesson I hammered into them. If someone is having a bad time then there must be someone else to help him out. It's team work that gets results".
Big John's graduation to management was spectular. In his first season (1966-67) doubling as inside forward and manager, Glentoran won the Irish League Championship, the City Cup, the Ulster Cup and the Gold Cup. They also met Glasgow Rangers in the European Cup Winners Cup, drawing 1-1 in Belfast and losing 4-0 in Glasgow.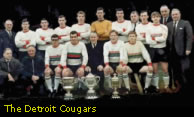 The following season, the Irish League was won again. In between, the Glens had faced famous British, Continental and South American opposition on an American tour as the Detroit Cougars, and lost only three out of twelve games. Malcolm Brodie, who covered that tour for the Belfast Telegraph, tells me that, in his view, it was the finest Irish League team of all time.
The European Cup draw set the Glens against the 'Eagles of Lisbon', Benfica. Colrain flew out to Portugal to examine his opponents and was duly impressed: "Eusebio was very much the star turn, and if anybody didn't play the ball to him they were in the bad books. And when he got the ball he had no intention of letting it go. He wouldn't lay it off in an advantage position. I knew that if did that against a side that were reckoned Benfica's equals, he would do it even more against a lot of unknown "scrubbers" from Ireland, which is all we were to them. So I put Tommy Jackson on Eusebio in both matches and said, "He's your baby - don't let him operate." Eusebio was isolated, the squabbling started and we were in business.

A Colrain penalty helped Glentoran draw 1-1 in Belfast, but the real triumph was in Lisbon. Said Colrain " ..we got a goaless draw there and it was the only time Benfica failed to score at home in a European Cup tie. We only lost because of the rule that away goals counted double." That result and the formidable series of domestic accomplishments were not Colrains only distinctions with Glentoran. He sold six players for well over £50,000: Terry Conroy joined Stoke City; Eric Ross went to Newcastle; Billy Sinclair to Kilmarnock; Arthur Stewart to Derby County; Tommy Jackson to Everton and Walter Bruce to Detroit Cougars.

Colrain quipped, " I also sold a fellow with a wooden leg, but I don't think he made the first team."

In an article in the Observer, on 20 September 1969, famous sports journalist Hugh McIlvanney wrote that, contrary to popular belief that he had taken a handsome personal return out of those dealings, Colrain was paid a modest £350 by the directors.
Predictably, Colrains first quarrel with Glentoran was over money. He was publically backed by lionising supporters who had a sit down strike on the pitch before one match, carrying banners that included: "Give more to Big John and spend less on Long John".
Towards the end of that first season Colrains pay went to £35 per week from £25. His club house cost him £3.50 out of his taxed £35.
After that remarkably successful 1967-68 season, Colrain insisted that he was worth a signing on fee of £1,000 and a slight weekly increase of about £5. He was sacked without ceremony.
In his book on the history of Glentoran, Malcolm Brodie states that Alex Young, the man who succeeded Colrain, was given £2,000 signing-on fee, £90 per week, a three year contract, free house and 2.5% on transfers.
A bitter Colrain spilled his heart out to Hugh McIlvanney: "When you compare the screw I got with what I've been told Alex got when he took over after me nobody has to draw diagrams to give you the message."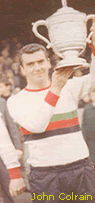 Colrain was to suffer the fate of all fallen stars - the black hole of oblivion. He flickered briefly at St. Pats Athletic in Dublin, but his ambition to manage a Scottish or English league side was never fulfilled. Big John died prematurely of a heart attack at his Glasgow home in 1987. He was fifty years of age.
The following words of Hugh McIlvanney, which gave a little insight to the character and humour of the 'big man', serve as a fitting epitaph to a Scot who came to East Belfast, saw great success and conquered the hearts of all fans.